MY STORY
I'm a Chinese-American born in Qingdao, China. When I was seven months old, I completely lost my hearing from a baby stroke- my doctor told my mom I would not be able to speak in the future. Fortunately, I was one of the first patients in China to receive cochlear implants; back then, it was a new type of operation. However, I had to work extremely hard to achieve what is easy for everyone else. While other children were playing, I practiced speaking sixteen hours a day for five years. Unfortunately, due to my hearing loss, I missed out on a childhood.
I was lucky to have met many great people who influenced me – my teachers, family, and friends who helped me and always supported me. When I was 18 years old, I took the initiative to move to the United States, and my family decided to come with me. It was a very challenging time for me because English is my second language. Almost all the teachers in my school – Great Neck North High School – said that I couldn't get a high school diploma in the next two years and would need to go back to China or transfer to another high school. Despite the opposition, I believed that I could do it. To prove them wrong, I took an extra year to pass five exams and got a high school diploma. I then went on to Parsons school of fashion design for two years and later transferred to the School of Visual Arts (SVA) to study Fine Arts. However, I did not give up on my dream of being a fashion designer.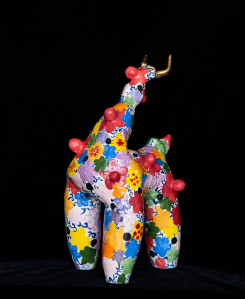 God blessed me with a gift for visual art. I had always loved colors from a young age and earned art awards and art shows when I was a little girl. But, I felt so much happier when I was drawing – what I could not express in words as a deaf child, I could depict in my art. During college, I received a VSA award from Kennedy Art Center, and my sculpture – "The Cow" – went on a 24-month across-America tour. I explored drawing, painting, ceramics, sewing, sculpture, photography, jewelry, and fashion design. I wanted to bring my art into the fashion world.
As a kid, I dressed up my Barbie dolls by making dresses from colorful fabrics for them from scratch. As an adult trying to find my niche in the world of fashion design, I wanted to help more people afford high-quality clothes with a good pattern.
I studied fashion design at Parsons, F.I.T., and Central Saint Martins (CSM). I created the brand of Carol Cao in 2017. At that time, I just finished my freshman year and traveled to Spain by myself in the summer. I shopped in Barcelona, explored new European shopping malls, and witnessed many famous brands of beauty and luxury – but they were costly. I wanted to help more people wear high-quality, comfortable – yet affordable clothes. My goal is to make people happy and help them save money.
Following my ideas, my Etsy shop offered high-quality and affordable products and soon became a huge success. As of today, we've had over 30,000 orders and over 4,000 five-star reviews from happy customers. And we opened our new shop on Amazon to sell a big platform.
I want to bring my artistic soul into fashion design to give people beauty and comfort, to make them feel proud of themselves in their souls when they dress affordably. Everything in our life is an element of art, as art is life.
List:
2016 Fashion Design Intern at Focus 2000 in New York
2017 New York Fashion Week Intern
2017 "Carol Cao" basic in New York
2016-2020 BFA Fine Arts School of Visual Arts
2018 Dean list School of Visual Arts GPA 3.98
2018 VSA Kennedy Emerging Young Artists award
2019 Carol Cao New York Fashion Show
2019 First local shop Dreems in SoHo, NYC
2020 SVA Outstanding Student graduation